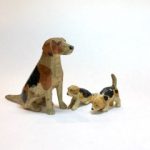 The Forest Toys of Brockenhurst are an amazing range of hand carved and painted wooden toys.
As Fergus Gambon said in his foreword to the book I have just published, they are "naïve yet catching exactly the spirit of the creature, person or object that they represent".
Although appearing to belong in the 18th and 19th centuries these playthings were made between 1922 and 1939.
---